Naxos beaches guide: Go to the beach like a local
First of all, it's worth noting that Greek sun is quite strong, and if you just disembarked your flight from the UK for example, Naxos sun in august will turn you crisp in just a few minutes. Protect yourself! Use plenty of sunscreen, a hat, an umbrella, sunglasses and drink plenty of water. Prefer your sunscreen alcohol free, and with a maximum of natural ingredients by opposition to chemicals. Also, spreading a lot of sunscreen before going to the water is just bad for the environment and it is much better to apply right after your swim than before, even if your sunscreen is water resistant.
Now that you've packed your vital gears, you need a clear view of the wind, especially the direction and strength. Lots of website will help you with this, you can pick WindFinder for example, as it has a station in Mikri Vigla which will give you a clear view of what wind do we have right now, and an OK view of what will happen for the day.
Let's dive into the best naxos Greece beaches list, ranked by wind direction and force.
I. Strong north wind
A very strong North wind can be painful as light sand will be blown right in your face, and waves can be crushing to the beach making your way into the water more difficult or even dangerous for your kids. You need a beach with heavy sand, protected from the north.
Agios Prokopios, north corner
Agios Prokopios is a Long Beach with a rice type of sand. It doesn't stick much on you when you are wet, and even better, it's doesn't fly away with strong winds. The north corner (close to the church) is very well protected from the north wind because it is right behind the hill of Stelida. Because of this configuration, the sea will be calm as well. This beach is really the perfect spot in case of strong wind!
Alyko beach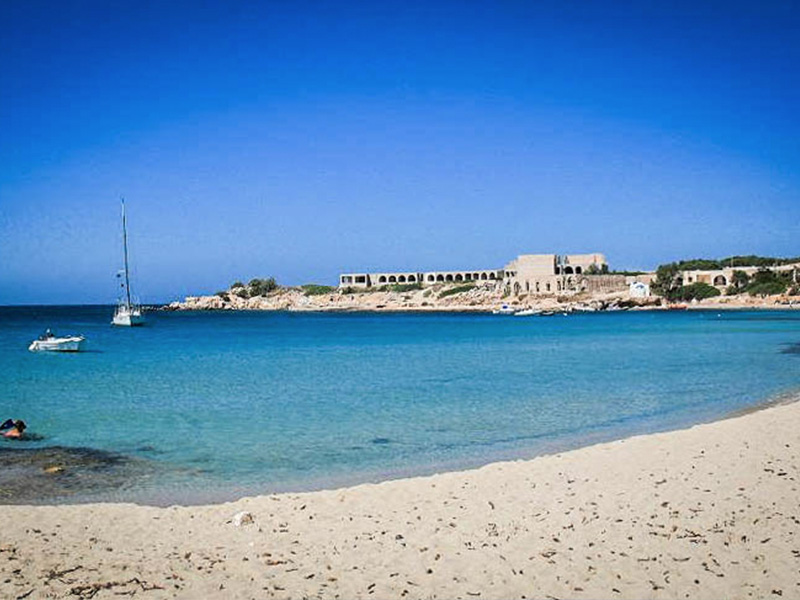 Alyko beach is on the west coast of Naxos, quite down south. It offers a good shelter from the North Wind but the sand is not so heavy and might be blown away if the wind is very strong. Up to 5-6 beaufort, you will not have any issue there. Also, the bay is quite protected as well, so the water will be calm and safe. Just mind the stream pushing you out of the beach in case of very strong wind. Swimming out will be much easier than swimming back to the beach.
Saint George Beach, north corner
The closest beach from Naxos Town offers a decent shelter from the North Wind, especially on its north part. Locals don't really like this beach for some reason, but it has many advantages, including being the safest bet for your kids as it is very shallow quite a long way in. Renting a sun bed on the north part of the beach can be very convenient as it is sheltered, and you benefit from the great service these places offer.
Panermos beach
Ok, that's a long shot. You definitely need a car, and it is the furthest beach you can go. (Have a look at a map, you will understand!)
Panermos bay is well protected from the north wind, and sea is calm. The beach is rocky, and a small food truck is operating in peak season.
II. North wind, moderate
Plaka beach
Plaka beach is on the west coast of Naxos, a bit further south of Agia Anna and Agios Prokopios.
Anywhere in Plaka beach is a good choice with a moderate north wind. You just don't want the sand to be blown away. Some parts of the Long plaka Beach will offer better shelter than others. The choice here is more about what kind of service do you require for your beach day. If you need service, sun beds, food and drinks, go in front of your favorite shop. If you go further south, the coastal line is less developed, less touristy in a way, and offers more natural landscapes and less or no service at all.
Families will be happy to go close to the surveillance point in front of Maragas camping for an extra peace of mind.
Agia Anna
Situated between Plaka and Agios Prokopios, Agia Anna is also a good choice, especially if you like organized beaches. There are a few bars who will be delighted to have you on their sun beds. On the other hand, if you are looking for a quite spot, this might not be the wisest choice.
Mikri Vigla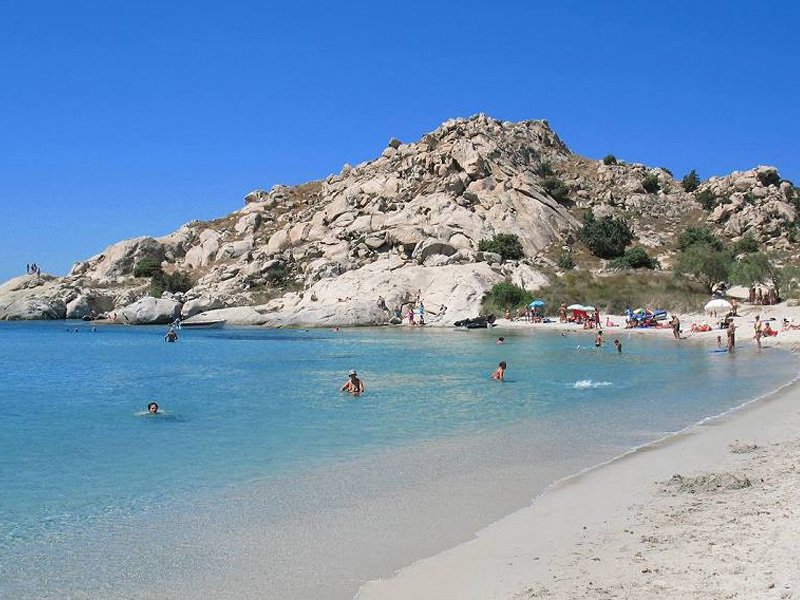 Go as close to the hill you can. You will be quite protected from the wind, but the sea state can be a bit wavy. There are bars and restaurants around, so you will find a decent service on the beach. If you come early enough, you can even go to the small coves on the hill itself, and enjoy perfect protection from the wind, but you will be lying on a rock, which is less comfy than sand of course.
Saint George Beach
With a moderate north wind, you can go anywhere in Saint George Beach (while we advised you to use only the north corner in case of strong wind). It's very convenient as it is at a walking distance from anywhere in Naxos Town. Also, there is a surveillance point right in the middle which can be very nice if you are not a strong swimmer or if you have kids.
Agios Prokopios
Anywhere in Agios Prokopios will be ok in a light to moderate north wind. Go right in the middle of the beach if you are looking for peace and tranquility, but keep in mind that the beach might be frequented by nudists, especially in the center.
Go to the south part of it, close to the bars and restaurants if you need service.
III. No wind
As you can expect, if there is no wind, any beach on the island will be the perfect spot!
IV. West winds
This is not a very common wind, especially during summer, but things happen. If you are lucky enough to see this, go rent a car and drive to Moutsouna.
Psili Amos
Very close to Moutsouna and the fish taverns, Psili Amos (which one could translate to "fine sand") is a very nice choice. It's quite far from Naxos Town, but it's worth a visit anyway. The east coast of Naxos is more wild, less protected from dominant winds, but very enjoyable
V. South winds
Locals don't like south winds! It's awful for windsurfing, and well, it's humid. If the weather is hot already, you end up with a very heavy atmosphere.
Orkos beach
Orkos bay is really beautiful. White light sand, and there are sun beds during peak season. The whole bay is protected from south, and the sea will be flat as a lake.
Amitis beach
Quite close to Naxos Town, but you will still need a vehicle. This beach is 100% open to north, so will provide perfect shelter with south wind. There is a tavern on the beach and a coffee shop.
Apollonas beach
Drive north of Naxos Town up to Apollonas seafront. There are lots of taverns and bars right on the beach, and sun beds of course! Perfect for a nice relaxed day at the beach, but not so nice if you want to be close to nature.
---
There are lots of small bays hidden all the way around Naxos, some accessible directly from the road, some where you will need to walk quite a bit, and a few accessible only by boat. SY Xanemo may set sail to Rina cave for example which is not accessible by road.
Did we forget your favorite spot ? Just let us know in the comments below!